4:20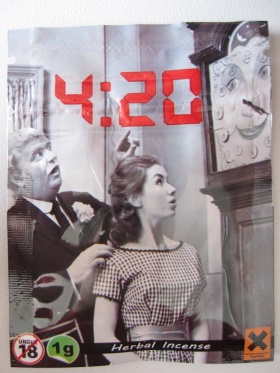 4:20
ACHTUNG: Alle Analyseergebnisse beziehen sich jeweils nur auf die getesteten Stichproben. Wir weisen ausdrücklich darauf hin, dass die Inhaltsstoffe und Dosierung der Produkte von Charge zu Charge sowie von Packung zu Packung variieren können.
WARNING: All analysis results only refer to the samples tested. We particularly point out that the ingredients and dosage of the product can vary from batch to batch as well as from packet to packet.

ATENCIÓN: Todos los resultados de los análisis sólo se refieren a las muestras analizadas. En particular, indican que los ingredientes y la dosificación del producto puede variar de un lote a otro, así como de un paquete a otro.

ATTENTION: Tous les résultats d'analyse ne concernent que les échantillons examinés. On a particulièrement remarqué que les ingrédients et le dosage du produit peut varier de lot en lot, ainsi que d'un paquet à un autre.
Όλα τα αποτελέσματα των αναλύσεων αναφέρονται μόνο στα δείγματα που δοκιμάστηκαν.
Επισημαίνεται κατηγορηματικά ότι τα συστατικά και η δοσολογία των προϊόντων απο παρτίδα
σε παρτίδα ως και από πακέτο συσκευασίας σε πακέτο μπορεί να διαφέρουν.
ATENCIÓ: Tots els resultats de les anàlisis només es refereixen a les mostres analitzades. En particular, indiquen que els ingredients i la
dosificació del producte pot variar d'un lot a un altre, així com d'un paquet a un altre.
OHARRA: test Emaitza guztiak erlazionatzeko aztertutako laginak bakarrik. Hain zuzen ere, produktuaren osagaiak eta dosiak dela
adierazi dezake bat batch batetik bestera aldatu eta pakete bat batetik bestera.